ANAGLYPHIC CONTRAST BALANCE. (ACB) 3-D ANAGLYPH PRODUCTION METHOD. See More
The (ACB) 3-D process enables contrasts from the full spectrum to be viewed within each color channel, eliminating retinal rivalry. (ACB) 3-D is available as a Photoshop Action Set.
(ACB) 3-D imaging provides a stable 3-D anaglyph image with dynamic balanced contrasts perceived in color.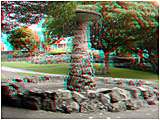 (ACB) 3-D ENABLES THE WORLDS BEST ANAGLYPHIC 3-D IMAGING AS IS PROVEN HERE.
See examples of (ACB) 3-D Anaglyphs in the STUDIO 555 (ACB) 3-D Image Gallery
Use red/cyan gels. Try (ACB) 3-D Viewers
CONTACT STUDIO 555 FOR 3-D PHOTOGRAPHY OF STILL OR MOTION IMAGES OR FOR (ACB) 3-D ANAGLYPH PROCESSING OF YOUR 3-D MOVIE.