3-D IS NOT ABOUT WEARING GLASSES. It's about seeing images in three dimensions from a two dimensional surface.
There is often a presumption that 3-D is trying to replace the 2-D mediums. You will hear comments like "Do you expect people to sit there and wear glasses to see it?" You may then reply "No they won't have to sit."

2-D will always have its convenient and mundane place on the surface of screens and pages. 3-D will also have its place in front of and beyond display surfaces.
3-D will always require more image preparation and a display method of channelling or separating the left and right views. The efficiency of the channelling is crucial for stereoscopic imaging. Each eye should have its own exclusive view.
Anaglyphic imaging is the most versatile, cost efficient and achievable 3-D format. With anaglyphic imaging, colors that are spectrally opposed are suitable for displaying the left and right views of a stereo pair. Of the many combinations, a red color channel and a green-blue color channel provide the best combination of mutual extinction and color perception when viewed through red/cyan viewing gels.
30% Red with 59% Green and 11% Blue light mixed together make white light. This suggests a 30/70 brightness imbalance between R/G-B color channels but in practice it is not an issue.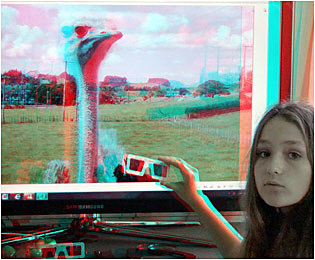 Anaglyph of an anaglyph. Try (ACB) 3-D Viewers